Doctor Butler's has long been here to help you find relief from hemorrhoids. But in addition to postpartum hemorrhoids, there are a number of common issues you can anticipate in the weeks after giving birth. Stocking up on postpartum must haves for mom will ensure you're all set to leap from pregnancy to parenthood, so read on to explore our postpartum must haves list.
Who are we? We're Doctor Butler's, experts in down-there care of hemorrhoids and related postpartum conditions. We make proctologist-developed hemorrhoid ointments and complementary products to help you quickly leave the pain behind. Dr. Robert Cutler medically reviews all of the information here.
Must Have Postpartum Essentials
Pads
In the weeks following the birth of your baby, your uterus may continue to discharge a mix of blood, mucus, and tissue called lochia. Lochia can flow heavily for one to two weeks before gradually subsiding, so purchasing pads in a variety of thicknesses will offer varying degrees of protection as you heal. You will not be able to use tampons as you recover, so pads that offer gentle and absorbent protection are a must have after birth.
Peri Bottle
The perineum is a sensitive area of skin between the anus and genitals. During childbirth, your perineum is placed under a colossal amount of pressure, often causing tears or rips to the skin. Whether you require stitches or not, a peri bottle can be used to gently squirt warm water onto the area before, during, and after urination to help provide relief and ensure the skin stays clean.
Sitz Bath
Sitz baths are one of the most commonly recommended at-home treatments for hemorrhoids, and it's no surprise they're must haves after birth to aid in your postpartum recovery. If you had an episiotomy, experienced any form of tearing during childbirth, or feel just plain sore in your pelvic area, a sitz bath can do wonders to relieve the discomfort. Filling a bowl with warm water and soaking the area for just 10 to 20 minutes may reduce swelling and help promote a hygienic environment in the process.
"Best Help Ever! This product is better than the prescription my doctor gave. I'm sticking with what works."
Verified Reviewer
Seat Cushion
If there's one constant of childbirth, it's the toll it takes on the pelvic area as a whole. Eliminating pressure on this area in the weeks following labor is essential to reducing pain and encouraging tears to heal. While a donut pillow is often touted as a postpartum must have in the postpartum recovery kit, Doctor Butler's believes this shape actually increases hemorrhoid-causing pressure on the affected region. High density memory foam helps reduce anorectal pressure, offering comfort from soreness following childbirth and preventing the exacerbation of issues that may carry over from pregnancy to postpartum.
Postpartum Underwear
Your body just supported nine months of intense pressure, so it will come as no surprise that the first month postpartum may include discharge, blood, and bladder leaks. While these common issues should eventually subside, postpartum underwear allows you to move freely and with full coverage at every stage of healing. Disposable, mesh, absorbent, and compression options all offer different benefits and are typically roomy enough for a maxi pad or any additional support you choose.
Heating and Cooling Pads
A best must haves after birth list will always include both heating and cooling pads. Whether it's swelling from a vaginal birth, soreness from an incision or breastfeeding, or even itching and burning from hemorrhoids, sometimes the simplest solution can offer the quickest route to relief. Effective as an insert in nursing bras, seat cushions, or placed wherever you may be experiencing pain, choose between a soothing wave of heat or the instant, icy relief of a cooling pad on an itchy and irritated bottom – heating and cooling pads are the one-two punch of postpartum recovery.
Nursing Pads
Much of motherhood is a learning curve, with lactation being one of the most unique examples. Whether breastfeeding or not, as your body adjusts to its latest offering of breastmilk, errant milk may make a frequent appearance. Nursing pads can either be inserted or held in place by your nursing bra to provide added absorption both day and night between feedings or simply to catch leaks.
Epsom Salt
Add a little oomph to that sitz bath by dropping in some epsom salt, which will help increase the calming of any hemorrhoid flare-ups and sore perineal skin you may encounter. Epsom salt is a great addition to any sort of bath during pregnancy to soothe sore muscles, and its ability to reduce inflammation and promote safe, natural healing means it remains just as essential in your postpartum toolkit.
Hemorrhoid Relief
Always last to leave a party, hemorrhoids tend to flare up during pregnancy and then stick around postpartum. Between the weight gain, extra pressure on your rectum, and constipation that are generally behind hemorrhoids while pregnant, the strain on your body during birth then extends their lifespan. Find an at-home hemorrhoid treatment for mothers that can address postpartum itching, burning, bleeding, and pain with numbing ingredients such as lidocaine and natural anti-inflammatories including horse chestnut and calendula.
Doctor Butler's Hemorrhoid & Fissure Ointment is made mom-friendly for even the worst cases of hemorrhoids.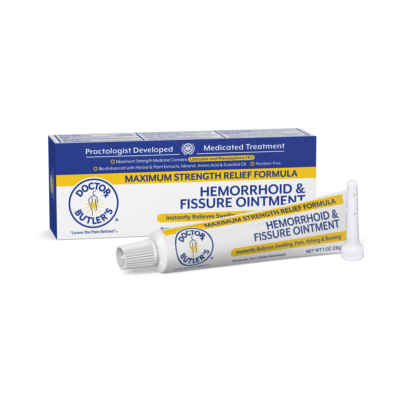 "Best Help Ever! This product is better than the prescription my doctor gave. I'm sticking with what works."
Verified Reviewer
Perineal Spray
Similar to a peri bottle, perineal spray is another option for soothing the sensitive area of skin between the genitals and anus that often tears during childbirth. As the perineum begins healing, it may also itch or cause discomfort, and a cooling, soothing spray will help provide relief while keeping the area clean and free of germs. A natural, non-toxic perineal spray is a safe choice for nursing moms who may be concerned with ingredients seeping into their breast milk during this period.
Stool Softener
Between hormonal changes, lack of sleep, shifts in diet and exercise, iron supplements for postpartum blood loss, or plain fear of bowel movements due to stitches or soreness, constipation is a postpartum mainstay. Stool softeners help increase the water and fat content absorbed by your stool, making it easier to pass by the time you're ready to go. Stool softeners are often combined with laxatives, so be sure to choose a softener that is stimulant-free.
Nipple Butter
For those in postpartum who are breastfeeding, nipple butter can be a real lifesaver as you and your baby begin a feeding routine that can cause raw, blistered, or even bleeding skin. The hydration in nipple creams slows the loss of moisture to promote healing. While you may remove the butter ahead of feeding, it is inevitable that your baby will come in contact with the ingredients, so make sure you're choosing safe products that do not contain petroleum jelly or Vitamin E.
Pain Relief
Through both pregnancy and childbirth, strain is being placed on multiple parts of your body simultaneously. Discomfort from general soreness, uterine cramping, and even lacerations or tearing can all be minimized postpartum using over-the-counter pain relievers. If nursing, consult your doctor for the analgesic that's right for you.
Soothing Wipes
Topping the list of things new moms need for themselves may be soothing wipes, which double as a newborn must-have. Keeping a pack on hand for yourself (think first-month bleeding and discharge, hemorrhoids) and your baby (diaper changes, germs, and even spill clean-up) means you have immediate access to a soothing, gentle, and hypoallergenic method for postpartum care that you can take with you anywhere.
Conclusion
While the list of must haves after birth may feel never-ending, the most important thing to focus on is products that are designed with a healthy recovery in mind for both you and your baby. Just as childbirth comes in many forms, so do the choices and needs of each postpartum healing period. Don't forget amidst all the hustle and bustle of your new addition that your own body needs time and care to be at its best, and Doctor Butler's is proud to offer safe, natural products to support your strongest postpartum self.