One in every 20 Americans currently has a hemorrhoid problem. That's millions and millions of people affected each year, making hemorrhoids a common struggle for so many American adults. Are you one of them? Get relief now with Doctor Butler's Proctologist made hemorrhoid cream and get our expert info below.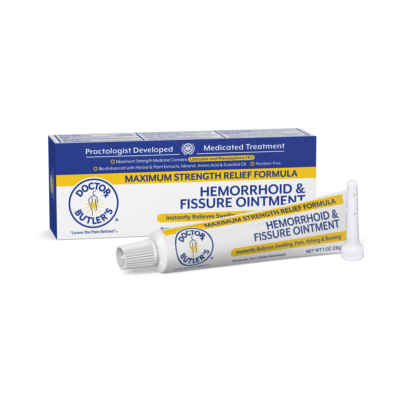 "Best Help Ever! This product is better than the prescription my doctor gave. I'm sticking with what works."
Verified Reviewer
Hemorrhoid are inflamed and irritated blood vessels in and around the anus and rectum that are uncomfortable and cause itching, burning, and pain. Hemorrhoid cream is not the only treatment for hemorrhoids but it's the most popular one, and the one we recommend the most at Doctor Butler's. That's because of its ease of use, high pain-relieving potency and duration of effectiveness.
It's not a hemorrhoids cure so to speak, as only diet, exercise and lifestyle change can do that, but it will help you deal with the symptoms. But what does hemorrhoid cream do? What can a patient expect from applying hemorrhoid creams? That's what we're going to explain in this guide to hemorrhoids medications and creams.
You'll learn the answer to the following questions: what does hemorrhoid cream do? How to use a hemorrhoid cream? What off-label uses for hemorrhoid cream do people commonly ask us about, and what alternatives to hemorrhoid treatment exist? Get info below on what this product does, how these treatments work, and how to apply hemorrhoid cream.
Why Use Hemorrhoid Cream?
The soothing ingredients in hemorrhoid cream help calm hemorrhoids and begin the healing process. Lidocaine is a key ingredient in many hemorrhoid cream remedies, which is a local anesthetic that acts fast to dull the pain.
Another common ingredient is zinc oxide, a compound that acts as an astringent, which provides another layer of pain reduction. You might also find vasoconstrictors, which reduce the size of blood vessels and swelling. Some creams and treatments may have ingredients your skin loves, like lanolin or glycerin, to protect the tender tissues from further irritation.
When used correctly, hemorrhoid cream doesn't just relieve the pain. It will also soothe any burning that you may be struggling with and provide hemorrhoid itch relief while helping to begin the healing process. Touching or irritating the flare up will make your problems worse, which is why having an anti-itch ointment can be essential to the healing process.
How to Use Hemorrhoid Cream?
To apply hemorrhoid cream with lidocaine, it's crucial to follow the instructions on the packaging as each manufacturer may have a slightly different process. In general, when you apply the cream, you will first want to wash the affected area as well as your hands. Avoid wasting ointment by applying after a bowel movement. Otherwise, the passing stool can wipe away ointment. Get thorough instructions for applying hemorrhoid cream at the perfect moment on our expert resource page here.
To apply Dr. Butler's Hemorrhoid Cream, put a small pea-sized amount on your finger or the applicator tip and then gently rub it into the affected area. Be careful not to apply too much pressure to avoid any unnecessary bleeding. Replace the cap on your cream and wash your hands thoroughly once you've applied the cream to your hemorrhoids.
Hemorrhoid Cream: Common Side Effects
Hemorrhoid creams, like any medicinal treatment, are not without their own side effects, but these can be minimal. It's always best practice to speak with your practitioner before making use of any new medicine so you can assess any possible side effects together. Side effects with hemorrhoid creams are rare.
Just in case, however, here's a list of what to look out for and when to call your doctor and seek medical advice right away.
Burning
Hemorrhoid creams made with hydrocortisone may cause burning upon application of the cream. (Doctor Butler's is not made with hydrocortisone.) This effect should subside in a few minutes and go away after a few applications. However, if the burning does not stop, you should speak with your primary physician, as this could be a sign of an allergic reaction to one of the ingredients in the cream you're using.
Upset Stomach
Like burning, an upset stomach can occur when the patient is having an allergic reaction to the ingredients in the hemorrhoid cream they have chosen. If you experience stomach upset after using hemorrhoid cream, you should speak with your family doctor to rule out allergies.
Dizziness
Dizziness is extremely rare after hemorrhoid cream usage, but if you experience this side effect, it's crucial to see your doctor and get medical advice as soon as possible. This side effect can also be a sign that you may have an allergy to one or more of the ingredients in the cream you've used, so it's always a good idea to find out why you're experiencing adverse reactions.
Headache
If you experience a headache after using hemorrhoid cream, this can be a sign that you have used too much product. When this happens, it's important to talk to your doctor but also to stop using the cream right away and then resume its use after a day with a lower dose unless your doctor advises you against it.
Bleeding
Some ingredients in hemorrhoid creams, such as lidocaine, can cause bleeding in the affected area, but this side effect is rare. Bleeding is most likely caused by the ointment application process. Do not apply cream hastily or roughly. This cause of bleeding can be avoided by following the application instructions precisely. It's important to see your general practitioner if you experience any bleeding as a result of your hemorrhoid cream usage.
What to Use Instead – Hemorrhoid Cream Alternatives
There are alternatives to treating hemorrhoids if you've used hemorrhoid cream and discovered that you might be allergic or have other sensitivities to common ointment ingredients. Here are some of the other ways to treat the discomfort of hemorrhoids.
Sitz Bath
A sitz bath is a shallow warm water bath that you can lower the affected area into, soaking it to soothe your hemorrhoids, cleanse the area, and promote healing. The water should be lukewarm and only a couple of inches deep to submerge your private area.
It's important not to add anything to the water except Epsom salts if you desire. Epsom salts can add an anti-inflammatory element to your sitz bath, but avoid any soaps, shower gels, bubble baths, or any other cleansing product.
Once you've made your sitz bath, lower your anal area into the water and soak for 10-20 minutes. You can do this several times a day as hemorrhoids pain relief is needed. Sitz baths can be used in conjunction with hemorrhoid cream as well. Applying hemorrhoid ointment following your sitz bath, after you've dried the area, is the perfect time to do so.
Cold Compress
Any cooling effect will relieve the pain and swelling of hemorrhoids which makes ice packs or cold compresses among the best treatments for this ailment. When making a cold compress for the affected area, ensure you're working with a clean cloth made of cotton or something soft and non-irritating. If you're using ice, put the cubes in a Ziplock bag. Wet your cloth with cool water and wrap the bag of ice with it. Gently place it against the area of the hemorrhoids. You can use this for 10-20 minutes several times per day, but it's important to use a clean cloth each time.
You can also simply place an ice pack against loose fitting clothing, but avoid using an ice pack against bare, irritated skin. Use ice pack treatments alongside hemorrhoid cream to increase relief. A cold compress can be used at any time, before or after applying ointment.
Witch Hazel
Witch hazel contains numerous compounds that can reduce inflammation, pull tissues together and reduce bleeding. As such, this substance is one of the most ancient remedies for hemorrhoids and among the top and most effective treatments for the condition.
Witch hazel is found in multiple products designed to treat hemorrhoids and bring hemorrhoid relief. It's typical to find it in a gentle spray containing at least 50 percent witch hazel. To use a spray to begin the healing process, first clean the affected area and then lightly spritz the area for instant relief from itching, burning, and pain.
Witch hazel is safe to use alongside other hemorrhoid treatments, including hemorrhoid cream for added relief, but it's always best to use the cream after the spray to avoid diluting the ointment. Be aware of over-applying ingredients such as phenylephrine, which we put in both our ointment and spray. Do not use these treatments together in this case.
Other Uses for Hemorrhoid Cream
Doctor Butler's hemorrhoid cream is made specifically to reduce hemorrhoid symptoms and swelling and is not approved for other uses. Customers sometimes ask us if it can be used elsewhere, and unfortunately the answer is no. These three off label uses are the most common ones we are asked about and we urge consumers to find approved treatments or cosmetics for each of these issues.
Under Eye Treatment
Some consumers have historically turned to hemorrhoid creams to reduce under eye puffiness. That is because hemorrhoid creams typically contain vasoconstrictors which constricts blood flow to the area where it is applied. As a result, the puffiness in bags under eyes should theoretically be reduced, though we do not recommend usage.
Cold Sores
Cold sores get itchy and red and stand out like a sore thumb. As such, people turn to treatments with anti-inflammatory ingredients to reduce itching, redness and discomfort. Hemorrhoid creams do include anti-inflammatory properties to reduce the swelling and itching of hemorrhoids but only use them on external perianal areas.
Wrinkle Reduction
Reducing wrinkles on skin is another word-of-mouth use for hemorrhoid cream. That's again because of the vasoconstrictors in hemorrhoid creams. By reducing blood flow to the area, vasoconstrictors can tighten the skin enough to be able to reduce the appearance of wrinkles and fine lines. This effect is temporary but effective, so search for an approved facial vasoconstrictor.